Zeno's Warbird Video Drive-In Big April 2015 Newsletter
Hello World War 2 & jet aircraft fans –
You are invited to drop by Zeno's Warbird Video Drive-In http://www.zenoswarbirdvideos.com to view our April selection of eight exciting films streaming over the Web in broadband with four premiers!
[b]As always, all of the videos showing on our web site are for your free viewing pleasure. Please help "spread the word" by liking us on Facebook[b]
Now showing in April "At the Matinee" at Zeno's Drive-In. Free admission!
http://www.zenoswarbirdvideos.com/MATINEE.html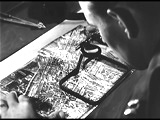 *Photographic Intelligence for Bombardment Aviation NEW – digitally restored Top secret & never shown to the public, this picture is an amazing time capsule from World War 2. Starring screen legend Alan Ladd (Shane) it's like a real life detective story, seen only by Air Intelligence trainees. "Smitty" an American Captain in photo analysis stationed in a misty Scottish castle becomes obsessed with a photo recon picture taken over Hamburg, Germany, that has anomalies he just can't explain. The story of how he solves this riddle using persistence, insight and World War 2 High Tech (including "Stereo Vision") is a fascinating tale.



*The Hidden Army: American Women in World War 2 NEW Digitally Restored This film opens in a remarkable flash forward to the future from 1944. Germany has been defeated and Adolf Hitler sits in a dark prison, writing his memoirs, "The Losing Fight," working on chapter 25, "The Hidden Army." In 1939 his experts in War Planning had told him in the coming War, the USA wasn't a threat because its armed forces were weak and it couldn't put a large army in the field and man defense plants at the same time. The very idea of American women going to work is scoffed at because they are "the most decadent on earth" & "spend more money in a year on cosmetics then their Navy spends on ships. Boy was he wrong!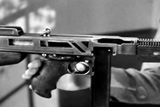 Principles of Operation of the Thompson Submachine Gun New Digitally Restored A thorough explanation of the inner workings of the Thompson delivered through a live tear down, with supplemental animation. You'll learn how all the parts function together in this very innovative design.

*The 1st Infantry division in Vietnam 1965-70 NEW – Digitally Restored Color In July 1965, The Big Red 1, one most storied in the US Army, was the first division sized American unit to be sent to Vietnam. This film gives a year by year account of their actions, fought from landing through their departure in 1970. From an initial deployment of 14,000 men & women it grew to over 20,000 by 1967, including infantry, armor, engineers, helicopters & artillery.

Air Attacks in Italy: A-36 Apache Dive bombers near Rome shows exciting from the cockpit views of USAAF A-36 dive bomber bombing & strafing attacks near Rome in 1944. This is a short film, but it's nonstop action! Some of the best footage of US dive bombing attacks you will find anywhere. The A-36 Apache (aka "The Invader") was the Allison engined ground attack version of the P-51 Mustang, equipped with dive brakes and 20mm cannon.

*Expansion to Air Power Between the eve of World War 2 in June 1939 and December 1943, the US Army Air Force grew from 2,402 aircraft and 24,700 personnel to 65,000 aircraft and 2.4 million personnel - an unprecedented leap. FDRs goal of producing 50,000 planes a year was met and surpassed! This engrossing film combines easy to grasp information with memorable graphics and dramatic historic film footage that makes it all real.

Target for Today This is THE classic World War II feature length documentary detailing a "maximum effort" American daylight bombing mission deep into Germany. There are no actors or recreations in "Target For Today.This film was shot on location under combat conditions and features the officers and men of the 8th Air Force going about their deadly business. All aspects of an actual major raid in 1943, from early planning through final touch down and crew debriefings, are covered in this very thorough account. Anklam. Danzig and the FW-190 plant at Marienburg are the targets hit.

B-29s Over Korea - Exclusive Documentary I created this original documentary from a recently found reel of silent, unedited and undocumented footage shot by the US Air Force in Korea in August-September, 1950, for a documentary that was never released. The highlight of the film shows an early morning briefing for 19th Bomb Group (28th, 30th and 98th Bomb Squadrons) at Kadena Air Base on Okinawa. Reminiscent of scenes from the World War 2 classic "Target for Today," the briefing is for mission against the all-important rail bridges near Sinanju Station, North Korea and the port of Nampo, as part of the preparation for the Inchon landings and the breakout from the Pusan perimeter.
We also show 1940-45 vintage WWII Army & Navy films and pilot's manuals on how to fly the F4U, F6F, P-38, P-39, P-40, P-47, P-51, P-61, TBF/TBM, AT-6/SNJ, B-17, B-24, B-25, A-20, A-26, B-26, B-29, and Stearman N2S. Alert! - don't miss the F-86, B-47 & B-58.
Zeno
Zeno's Warbird Video Drive-In
World War II Aviation Videos Playing Online 24/7
http://www.zenoswarbirdvideos.com
Now on Twitter @ZenosWarbirds
Web videos:WW2 Air Recon Intel,US Women at War,1st ID in VN,A-36 Apaches,B-17s & more