Zeno's Warbird Video Drive-In Big May 2014 Newsletter
Hello World War 2 & jet aircraft fans –
You are invited to drop by Zeno's Warbird Video Drive-In http://www.zenoswarbirdvideos.com
to view our May selection of eight exciting aviation streaming over the Web in broadband. There are four premiers! Highlights include two exciting films shot in occupied Germany, two that feature night fighters & bombers and two on U-Boat action in the Atlantic. Plus, more WW2 spies!
As always, all of the videos showing on our website are for your free viewing pleasure. Please help "spread the word" by liking us on Facebook!
Now showing in May "At the Matinee" at Zeno's Drive-In Free admission!
http://zenoswarbirdvideos.com/MATINEE.html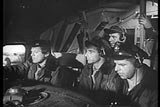 The Big Lift The Western Allies face-off against the Russians in Berlin NEW! In June 1948 in one of the first confrontations in the Cold War, the Soviets cut land supply lines to the Allied sectors of West Berlin, which was deep in the Russian controlled Eastern Zone in occupied Germany. The Soviets tried to starve the Allies out of the city. In response the Western Powers organized the massive 24/7 Berlin airlift to carry supplies. This gripping feature length drama starring Montgomery Clift, with a supporting cast of real US servicemen, was shot on location in occupied Germany. It pulls no punches in depicting the challenges, to the point of physical violence, when Americans and Germans, recent enemies, were thrown together by the new reality of post war Europe.

P-61 Black Widow Night Fighters in color. Very rare color P-61 night fighter footage. This is an original documentary I put together from unedited, silent archival film. See the 422nd NFS operating out of Florennes, Belgium. Then you'll move on to the Pacific and the island of Saipan, where you'll see legendary 548th NFS P-61 "Bat Outta Hells." One the highlights of this program is P-61 gun camera film showing a night attack with bombs, rockets and 20mm cannon.

Target for Tonight This classic film follows RAF crew "F for Freddie," a Vicker's Wellington medium bomber (Millerton Station, Group 33), through an entire low level night attack on an oil storage depot at a rail yard, from planning through return to base,.

House Search for World War 2 Spies NEW! From the C.I.A. Archives, a "hands on" agent training film produced by the O.S.S. (Office of Strategic Services) during World War 2 on the art of hiding (and finding) objects & secret information hidden in locations like homes, apartments and hotel rooms.

"No Sweat" Flight safety training featuring the F-86D Sabre. Told in a realistic "Film Noire" style, this film was produced by USAFE (United States Air Force, Europe) and filmed on location in Germany in the 1950s in order to cut down on costly air accidents resulting from pilot error. Seemingly trivial mistakes sometimes led to SNAFUs – or worse. You'll follow a pilot flying an F-86D through what should have been a routine hop, but turns into anything but!

Medium Bombardment & Attack featuring the B-25.This unique film was made to train B-25 & A-20 medium bomber squadrons transitioning from Europe to the Pacific, with a focus on the North American B-25. These groups were primarily tasked with ground and anti-ship attacks, inflicting huge losses on Japanese forces. Different tactics are shown as well as steps taken to modify B-25s for ground attack. Great footage of extremely low level actions!

Design for War: U-Boat Attack (Victory at Sea). NEW! From 1939 to 1941 the German Navy accelerated U-Boat production and unleashed their subs in the Atlantic, while the Allies scrambled to defend vulnerable convoys. Captured German film shows U-Boat C–in-C Admiral Karl Donitz and leading U-Boat aces like top scorer Günther Prien (200,000 tons sunk) in action. This period of great success was known as Die Glückliche Zeit (The Happy Time) by U-Boat crews.
Killers and the Killed: The Allies turn the tables on the U-Boats. (Victory at Sea) NEW! From 1942 to1945 the Western Allies built a string of air bases around and across the Atlantic to extend air cover over convoys for their entire voyage and launched numerous anti-sub aircraft carriers. German U-Boats were no longer safe in the Atlantic and losses mounted rapidly. Rare film of anti-submarine aircraft variants like the Lockheed Ventura, maritime versions of the B-24 Liberator and the Martin PBM Mariner.
We also show 1940-45 vintage WWII Army & Navy films and pilot's manuals on how to fly the F4U, F6F, P-38, P-39, P-40, P-47, P-51, P-61, TBF/TBM, AT-6/SNJ, B-17, B-24, B-25, A-20, A-26, B-26, B-29, and Stearman N2S. Alert! - don't miss the F-86, B-47 & B-58!
Zeno
Zeno's Warbird Video Drive-In
World War II Aviation Videos Playing Online 24/7
http://www.zenoswarbirdvideos.com
Now on Twitter @ZenosWarbirds
Web Videos: Berlin Airlift, WW2 Night Air Attacks, B-25s, F-86s, Spies, U-Boats