Zeno's Warbird Video Drive-In Big February 2016 Newsletter
Hello World War 2 & jet aircraft fans –
You are invited to drop by Zeno's Warbird Video Drive-In http://zenoswarbirdvideos.com/ to view our February 2016 selection of eight exciting films streaming over the Web in broadband, including three premieres!
As always, all of the videos showing on our web site are for your free viewing pleasure. Please help "spread the word" by liking us on Facebook!
Now showing in January "At the Matinee" at Zeno's Drive-In Free admission!
http://zenoswarbirdvideos.com/MATINEE.html/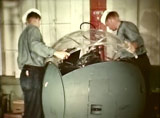 World War 2 U.S. Navy Aviation Metal Smiths NEW! Making aircraft parts from scratch. Spare parts for Naval aircraft weren't always readily available at sea or in the field. Your see Navy metal smiths produce a replacement engine cowling from scratch in the field, including producing a mold and casting, for a PBY Catalina and repairing a PB4Y (the Navy's B-24) with a new nose turret and more.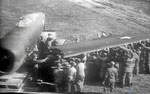 Uncrating and Field Assembly of the P-47 Thunderbolt This truly remarkable step-by-step training film shows how a ground support crew of fifty men could assemble a P-47 in a field using nothing more than muscle, unpowered hand tools, and pieces of the shipping crate it came in. We're talking nothing more than hammers, wrenches and bicycle pumps!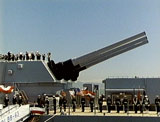 Battle Ship NEW! Iowa Class Battle Wagons return to action This film was produced as part of the ceremony commemorating the recommissioning of the Battle Ship Missouri in 1986. You'll see a history of the Iowa class Battleships (USS Iowa BB-61, USS New Jersey BB-62, USS Missouri BB-63 and USS Wisconsin BB-64), from launching during World War 2 through Korea & Vietnam to extensive refitting with modern electronics & Tomahawk cruise missiles before the 1st Gulf War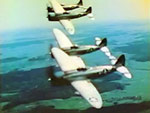 The 362nd Fighter Group On the prowl over Germany Exclusive! Select 362nd Fighter Group P-47 Thunderbolt fighter/bombers were specially equipped with extra color movie cameras to capture thrilling ground and air attacks as they happened. These squadrons were tasked with striking targets inside Germany as the war against the Third Reich entered it's final act in Spring, 1945. The result is unique "from the cockpit" views putting you in the middle of attacks on tanks, airfields, trucks, rail yards, bridges, trains, fighters, and more.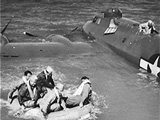 Ditch at Sea and Live in a Boeing B-17 Ditching in water was a fact of life for stricken aircraft in World War 2, from the frozen white tops of the North Sea to the Shark infested waters of the South Pacific. Lt. Reynolds, played by veteran actor Arthur Kennedy (Lawrence of Arabia), is copilot on a B-17 that ditches at sea. He's survives by pure luck, but the rest of the crew is lost due to a lack of preparation. When he gets his own ship, Reynolds vows his crew is thoroughly trained in B-17 ditching. He gives them the straight dope, step by step.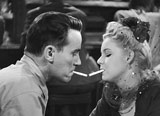 Sucker Bait NEW! German Spies in the USA! "Loose lips sink ships," was a warning seen everywhere during World War 2 in America. In this highly dramatic training film, starring Richard Carlson with Donna Reed, Barry Nelson and Esther Williams, unfortunately that becomes all too true. A riveting 1940s "Film Noir" style drama.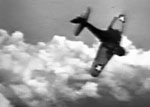 Avoiding & Controlling Spins and Stalls in World War 2 Aircraft Many deaths n World War 2 aircraft were actually caused by pilot error, rather than enemy fire. The problem was so serious that the US Navy produced this film to directly address the problem Learn why aircraft spins and stalls happen and how to deal with them in this thorough Wold War 2 US Navy training film. Features examples using an F6F Hellcat, F4U Corsair, PBY Catalina & more!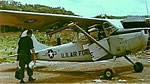 Bird Dog FAC for F-100s Supports US Army in Vietnam This short film is a real gem. You'll see an Air Force Forward Air Controller (FAC) assigned to the 1st Division, flying a tiny Cessna O-1E Bird Dog and operating in conjunction with three F-100 fighter bombers out of Phan Rang and local Army Artillery. Their mission is in support 3rd Brigade operations against VC bases near Lai Khe, 50 miles from Saigon. Specifically, to prep an LZ so chopper borne troops could land and conduct offensive operations.
We also show 1940-45 vintage WWII Army & Navy films and pilot's manuals on how to fly the F4U, F6F, P-38, P-39, P-40, P-47, P-51, P-61, TBF/TBM, AT-6/SNJ, B-17, B-24, B-25, A-20, A-26, B-26, B-29, and Stearman N2S. Alert! - don't miss the F-86, B-47 & B-58!
Zeno
Zeno's Warbird Video Drive-In
World War II Aviation Videos Playing Online 24/7
http://www.zenoswarbirdvideos.com
Zeno's Flight Shop DVD Store
World's Largest selection of WW2 & vintage jet videos
http://www.zenosflightshop.com/
Now on Twitter @ZenosWarbirds
Web Videos: Assembling & Flying P-47s, Iowa Class BBs, Spins,Ditching a B-17 & more