Zeno's Warbird Video Drive-In December 2011 Newsletter
Hello World War 2 aircraft fans –
You are invited to drop by Zeno's Warbird Video Drive-In http://zenoswarbirdvideos.com to view this months showing of six World War 2 aviation videos streaming over the Web. I've selected five of my favorites plus a timely new feature. As we memorialize the Pearl Harbor tragedy this month, it's important to remember how that event galvanized our nation and our allies to come together in an unprecedented response. See the the results in the premier of "The AAF Report."
As always, all of the videos showing on our web site are for your free viewing pleasure.
Now showing "At the Matinee" at Zeno's Drive-In


THUNDERBOLT! Exclusive digitally restored video from archival print with more than 5 minutes of additional content & directional stereo sound. "Thunderbolt!" chronicles the exploits of the P-47 Thunderbolt pilots of the "Fighting Cocks" of the 65th Fighter squadron, 57th Fighter Group. New – additional footage of 64th FS "Black Scorpions," 66th FS "Terminators" and Free French P-47s. Based on the island of Corsica off the northwest coast of the Italian boot, the 57th FG flew from behind the enemy's flank. As part of "Operation Strangle," they continuously attacked highways, bridges, ammo dumps, railroads and just about anything that moved to choke off the flow of supplies to the Axis front line.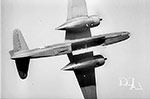 THE AAF REPORT - NEW! Fascinating report on the state of the Army Air Force was prepared by the Office of Strategic Services (forerunner to the C.I.A.) and delivered to the American people by Air Force C-in-C General Hap Arnold in early 1944. We know of no better picture of the organization and operation of the US Air Force in the midst of World War 2. You'll take a tour of all of all 15 "Air Forces" spread around the World, from the 5th in the South Pacific to the 8th in the U.K to the 15th in the Mediterranean to the 14th in China and many more. You'll learn how they started, what their strength and missions were, and best of all, there's a ton of vivid documentary footage showing daily operations from aircraft plants, training and transport, to exciting air combat action.



AIR ATTACKS AGAINST ITALY Dramatic "from the cockpit" views of A-36 Invader (aka "Apache") dive bombing & strafing attacks. (The A-36, ground attack version of the P-51 Mustang, is also featured in our popular "A Day with the A-36s.") This is a short film, but it's nonstop action! Some of the best footage of US dive bombing attacks you will find anywhere.



PROFILE OF A WORLD WAR 2 TEST PILOT This film was developed at the top secret Wright Field flight test facility during World War 2 to give pilots the low down on what to expect if they joined their aircraft testing program. See info about flight testing, including climb, level flight, take off and landing, test instruments, and pilot responsibilities. But, there's much more – some of the rarest and most bizarre aircraft produced during World War II, including one-off prototypes. You'll see a Bell P-63 King Cobra doing aerobatics spin & stall tests, a Bell P-59 Airacomet jet fighter, a Plat-LePage XR-1A twin rotor helicopter, a tiny Bell XP-77 fighter, a Curtiss XP-60C with contra-rotating props, a weird hybrid B24/B-17, a beautiful 20-mm canon equipped test P-51A from the first Mustang production run, captured enemy aircraft, and more.



A-26 INVADERS ATTACK - THE 416th BOMB GROUP IN COLOR Exclusive color corrected original documentary from Military Arts Pictures. Legendary SFP 186 combat cameramen rode along with 416th Bomb Group A-26 Invaders during March and April, 1945 with color film loaded in their cameras. The results are some of the most beautiful and dramatic footage to come out of the World War II. You'll see fleets of silver fast attack bombers soaring through towering cumulus clouds before unloading torrents of bombs deep inside the Third Reich. An added bonus is a cache of remarkable still pictures taken by 416th Group (668th, 669th, 670th and 671st Bomb Squadrons) staff photog Sergeant Cachat showing A-26s on location and their crews.



AERIAL TORPEDO ATTACK Every once in a while, a previously unknown film comes out of the past that raises the curtain on a forgotten chapter of military history. This film does just that, illuminating the science of naval aerial torpedo attacks. Originally developed to educate pilots about newly developed torpedoes that could be dropped from higher (and therefore less vulnerable) altitudes and speeds, the film also gives a through grounding in torpedo attacks in general. You'll learn about depth setting, range estimation, target angles, leading the target, the effect of crosswinds, working with fighters and dive bombers during an attack, using radar, countering evasive ship maneuvers and much more.
If you haven't stopped by Zeno's Drive-In before, we also feature 1940-45 vintage WWII Army & Navy films and pilot's manuals on how to fly the F4U, F6F, P-38, P-39, P-40, P-47, P-51, P-61, TBF/TBM, AT-6/SNJ, B-17, B-24, B-25, A-20, A-26, B-26, B-29, and Stearman N2S. Alert! - don't miss the F-86 & B-58!
Free admission for all!
Zeno
Zeno's Warbird Video Drive-In
World War II Aviation Videos Playing Online 24/7
http://www.zenoswarbirdvideos.com/
Now on Twitter @ZenosWarbirds
Videos: P-47s, Mustang Dive Bombers, A-26 Invaders, WW2 Test Pilots, Torpedoes!