Zeno's Warbird Video Drive-In Action Packed April 2016 Newsletter
Hello World War 2 film & jet aircraft fans –
You are invited to drop by Zeno's Warbird Video Drive-In http://www.zenoswarbirdvideos.com/ to view our April 2016 selection of eight exciting films streaming over the Web in broadband, including four premieres!
As always, all of the videos showing on our web site are for your free viewing pleasure. Please help "spread the word" by liking us on Facebook!
Now showing "At the Matinee" in April
http://zenoswarbirdvideos.com/MATINEE.html Free admission!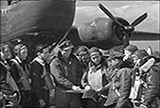 Target for Today NEW! Digitally Restored Release Target for Today is the classic World War II feature length documentary detailing a "maximum effort" daylight bombing mission deep into Germany. There are no actors in "Target For Today." This film was shot on location under combat conditions and features the officers and men of the 8th Air Force going about their deadly business. All aspects of an actual major raid in 1943, from early planning through final touch down and crew debriefings, are covered in this very thorough account. Anklam. Danzig and the FW-190 plant at Marienburg are the targets hit.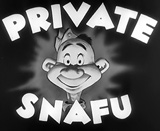 Private Snafu: Spies! New Restored Color. If bumbling Private SNAFU sounds like Bugs Bunny in this entertaining short, it's because it's the legendary voice of Mel Blanc, who did Bugs and many other cartoon characters. The inept Private SNAFU appeared in a series of cartoons showing G.I.s what NOT to do in a variety of situations – in this case, keeping military secrets. There's a lot of good advice packed in a fun filled few minutes that must have held the audiences' attention.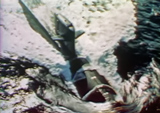 Man and the FBM: The US Navy's First Polaris Missile Submarines NEW Restored Color. This fascinating film shows the story in graphic detail of the development, construction, testing and deployment of both the revolutionary new subs and their missiles. New technologies like nuclear propulsion, rockets, subsurface firing, inertial guidance systems, advanced fire control and communications & computer systems had to be taught to a new generation of submariners in a remarkably short time (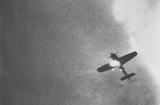 8th Air Force Fighter Pilots & their P-51s in Action EXCLUSIVE The primary source for this original documentary is a silent 8th Air Force information film showing 8th AF P-51 gun camera film shot in the snow covered Winter of 1944-1945, with brief unit IDs for each pilot. We've restored the video, added sound effects from real P-51s and included photos of most of the featured pilots with additional info and pictures of their Mustangs. You'll see film from legendary aces like "Kit" Carson & his P-51 "Nooky Booky IV" & more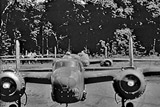 Mission to Rabaul This action packed film covers a key battle of the oft overlooked 1943 New Guinea campaign in the South Pacific. General Douglas MacArthur and his staff put together a brilliant combined arms strategy that utilized Air Power as a key element to leap frog over rugged jungle terrain and isolate and destroy Japanese strongholds. While tough Australian jungle fighters spearheaded the frontal ground assault, American paratroopers accompanied by Aussie light artillery volunteers, dropped on, seized & secured a Japanese air base behind enemy lines so that an Australian division could be ferried in on C-47s and attack the enemy from the rear. There's a good reason this is one of out popular films - it's a great documentary!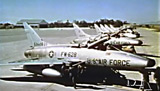 The United States Air Force in Vietnam - Restored Color This wide ranging USAF video covers the rapid expansion of the US Air Force's roll in the Vietnam War in the mid 1960s. Bases are set up at Cam Ran Bay, Phan Rang, Bien Hoa and other sites. A wide range of aircraft are shown in action including F-100 Super Sabres, F4 Phantoms, F-104 Star Fighters, F-102 Delta Daggers, F-105 Thunder Chiefs, A-1 Skyraiders, B-52 and B-57 bombers and more. There's exciting combat footage throughout the film showing air strikes over both South and North Vietnam. Meet the aircraft and the men who flew and maintained them.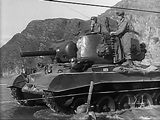 Korea: Operation Inchon New Digitally Restored The fascinating story of General Douglas MacArthur's amphibious landing at the port of Inchon behind North Korean lines. This brilliant move led to the liberation of the South Korean capital, Seoul, and a dramatic reversal in the course of the war. Previously victorious North Korean forces were out flanked and forced into a pell-mell retreat back north of the 38th Parallel, almost to the Siberian border.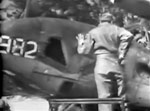 P-38 Reconnaissance Pilot starring William Holden Photo recon pilots (Photo Joes) had one of the riskiest, highest impact jobs in the war. Flying camera equipped, unarmed, and often unescorted aircraft – in this case the Lockheed F-5, a "stripped down" P-38 – pilots flew deep into enemy territory. "Reconnaissance Pilot" follows Packy Cummings. from basic training to the skies over New Guinea. Starring William Holden ("Bridge on the River Kwai") as Lt. "Packy" Cummings,
We also show 1940-45 vintage WWII Army & Navy films and pilot's manuals on how to fly the F4U, F6F, P-38, P-39, P-40, P-47, P-51, P-61, TBF/TBM, AT-6/SNJ, B-17, B-24, B-25, A-20, A-26, B-26, B-29, and Stearman N2S. Alert! - don't miss the F-86, B-47 & B-58!
Zeno
Zeno's Warbird Video Drive-In
World War II Aviation Videos Playing Online 24/7
http://www.zenoswarbirdvideos.com
Zeno's Flight Shop DVD Store
World's Largest selection of WW2 aircraft & vintage jet videos
http://www.zenosflightshop.com/
Now on Twitter @ZenosWarbirds
Videos:NEW Target for Today,Polaris Subs,8th Air Force P-51s,USAF Vietnam,Rabaul,F5s&more