Zeno's Warbird Video Drive-In Big June 2010 Newsletter
Hello World War 2 & jet aircraft fans –
You are invited to drop by Zeno's Drive-In http://www.zenoswarbirdvideos.com/
for this month's flight of five exciting aviation & combat documentary films playing over the Internet. We're commemorating the 66th Anniversary of the D-Day landings and the liberation of Western Europe with a showing of the Academy Award Winning feature length film, "The True Glory: From D-Day to the Elbe," plus two premiers, "Operation Carpetbagger" and "Operating Light & Medium Tanks in World War 2."
As always, all of the videos showing on our web site are for your free viewing pleasure. The movies playing at the Matinee are viewable in both RealVideo and Windows Media Player streaming video formats
Now showing "At the Matinee" at Zeno's Drive-In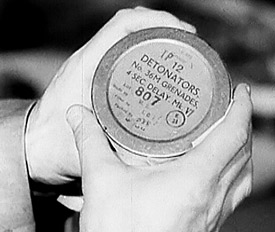 "Operation Carpetbagger: Air Dropping Agents and Supplies into Nazi Occupied Europe" New - Premier! From the Archives of the Central Intelligence Agency. This special operation was too secret to be revealed during World War II. Specially modified B-24 bombers of the 492nd & 801st Bomb Groups flew up to 40-50 high risk missions on moonlit nights over Nazi occupied Europe, dropping agents and supplies to 300,000 Resistance members. The operation was run by the O.S.S. "Carpetbagger" group out of an airfield at Harrington, England. You'll see B-24 operations as well as a detailed look at the huge, well camouflaged supply facility at nearby Holme. Highlights include O.S.S mission planning and flight operations briefing sessions and a very detailed account of how different kinds of weapons, ammunition and other essentials were packed in custom containers and loaded onto modified B-24s for parachute drop.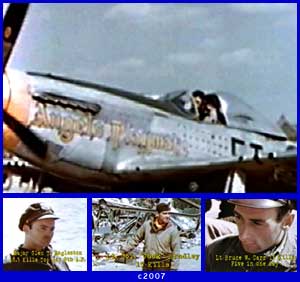 "The 354th Fighter Group 'Mustang Pioneers' Color Scrapbook" Color. Exclusive Documentary from Military Arts Pictures. Rare color film of the legendary 354 Fighter Group, with over 700 Kills, the highest scoring American unit in Europe. You'll see great aces like G. T. Eagleston and B. W. Carr at work and at play in their newly captured base in Germany in Spring, 1945, only a few months before war's end. Vivid scenes with the group's well known P-51Ds too, including "Margie Maru" and "Angel's Playmate." This was the first group to fly P-51s in the ETO. They were known as the "Mustang Pioneers." Amazing color gun camera film!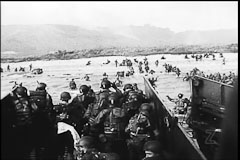 "The True Glory : From D-Day to the Elbe" Academy Award Winner" This feature length film tells the breathtaking story of the Allied sweep across Northern Europe, as seen through the lenses of hundreds of Combat Cameramen. Legendary American Writer-Director Garsin Kanin ("Born Yesterday," "Adam's Rib," "Pat & Mike) teamed up with Oscar Award Winning Director Carole Reed (Oliver!, The Third Man (nominee) and 3 time Oscar Winning writer Paddy Chayefsky (Marty, Network, The Hospital).They reviewed thousands of hours of film and hundreds of pages of eye witness accounts and distilled them down to this exciting and inspirational collection of some of the finest images, music & narration from World War II. Supreme Allied Commander Gen. Dwight Eisenhower introduces the theme of this picture in the memorable opening scene, "Teamwork Wins Wars." Though only a few minutes long, this is one of Ike's finest addresses. You'll see the strength in the man who held it all together. "The True Glory" takes you through the major episodes of the northern European Campaign, starting with Invasion preparations, the D-Day landings & consolidation, the capture of Cherbourg, fighting in Caen, the Falaise breakout, the race to liberate France, Operation Market Garden, the French resistance Operations, retaking Antwerp & Brussels, the Battle of the Bulge, and the crossing of the Rhine and the final campaign into Germany to defeat the Nazis.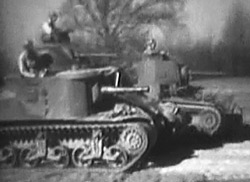 "Operating Light & Medium Tanks in World War 2 NEW Premier! Features M5 "Stuart" light and M3 "Lee" medium tanks inside and out in a variety of situations. You'll learn about engines, instruments, fuel systems, starting, gear shifting, turning, breaking, general driving instruction, track maintenance and more. You'll also learn the advantages and disadvantages of each type of tank in the field and the roles of different crew members.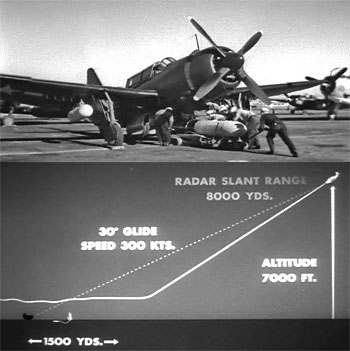 "Aerial Torpedo Attack - High Speed High Altitude" Every once in a while, a previously unknown film comes out of the past that raises the curtain on a forgotten chapter of military history. This film does just that, illuminating the science of naval aerial torpedo attacks. Originally developed to educate pilots about newly developed torpedoes that could be dropped from higher (and therefore less vulnerable) altitudes and speeds, the film also gives a thorough grounding in torpedo attacks in general. You'll learn about depth setting, range estimation, target angles, leading the target, the effect of crosswinds, working with fighters and dive bombers during an attack, using radar, countering evasive ship maneuvers and much more. You'll also see how far we've come from an analog world where printed charts were cross referenced during combat.
If you haven't stopped by Zeno's Drive-In before, we also feature 1940-45 vintage WWII Army & Navy films and pilot's manuals on how to fly the F4U, F6F, P-38, P-39, P-40, P-47, P-51, P-61, TBF/TBM, AT-6/SNJ, B-17, B-24, B-25, A-20, A-26, B-26, B-29, and Stearman N2S. Alert! - don't miss the F-86 & B-58!
Free admission for all. That's over 14 hours of rockin' World War II props & jets for free viewing over the Internet!
Zeno
Zeno's Warbird Video Drive-In
World War II Aviation Videos Playing Online 24/7
http://www.zenoswarbirdvideos.com/
Videos: D-Day, Secret Airdrops, P-51s in color, WW2 tanks, Torpedo Attacks & more