Zeno's Warbird Video Drive-In November 2013 Newsletter
Hello World War 2 & jet aircraft fans –
You are invited to drop by Zeno's Warbird Video Drive-In http://www.zenoswarbirdvideos.com to view our November selection of eight exciting aviation streaming over the Web in broadband
As always, all of the videos showing on our web site are for your free viewing pleasure. Please help "spread the word" by liking us on Facebook!
Now showing in November "At the Matinee" at Zeno's Drive-In Free admission!
http://zenoswarbirdvideos.com/MATINEE.html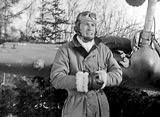 Land & Live in the Arctic NEW! digitally restored edition A P-40 pilot has engine trouble & a radio malfunction and makes a crash landing in deep snow & trees. Gradually, he remembers what he was taught to survive in the Arctic, or figures it out for himself – the hard way. Lots of useful cold weather survival skills are shown in detail

A-20 Havoc (Boston) Attack Bombers in Color with 416th BG Scrapbook 1944 This is an original documentary. See rare color footage of 416th Bomb Group A-20 Havoc (aka Bostons) attack bombers taken before the Group transition to A-26s in the fall of 1944 – plus many memorable still photos from Group photog, Sergeant Cachat. Includes over 200 pictures, including dramatic combat shots, detailed photo analysis of target strikes in France, Belgium, and Germany, and some of the most memorable crew photos we've ever seen. Low level attack missions flown by A-20s over the Continent were some of the most dramatic in World War 2!

The 365th Fighter Group "Hell Hawks" Exclusive Production, Restored Color Col. Ray J Stecker leads the men of the 386th, 387th, and 388th Fighter Squadrons into action. Watch extensive color footage of the 365th Thunderbolts in their forward bases in France and Belgium and exciting air-to- air and air-to-ground attacks, including rare gun camera film of the shoot down of a Messerschmidt Me 262 jet fighter!

The United States Air Force in Vietnam - 1967 NEW! Digitally restored color edition This wide ranging USAF video covers the rapid expansion of the US Air Force's roll in the Vietnam War in the mid 1960s. Bases are set up at Cam Ran Bay, Phan Rang, Bien Hoa and other sites. A wide range of aircraft are shown in action including F-100 Super Sabres, F4 Phantoms, F-104 Star Fighters, F-102 Delta Daggers, F-105 Thunder Chiefs, A-1 Skyraiders, B-52 and B-57 bombers and more.

US Naval Aviation Cadet 1942 - Restored Color I did a shot by shot color restoration of this video. Narrated by Joseph Cotton (Citizen Kane, The Third Man). This color film follows the career of a Navy cadet from enlistment soon after Pearl Harbor through Primary and Advanced Flight Training and on into combat. Especially memorable are the many scenes shot at Pensacola Naval Air Station flight school. You'll see all aspects of cadet training, including flight, gunnery, navigation and bombing, along with a generous serving of cadet social life.

B-29s Over Dixie Building the Superfortress - 1944 A fascinating look inside the huge B-29 production facility built from scratch in Marrietta, Georgia. Includes detailed views of revolutionary new production techniques, assembly line work, and the training and care of thousands of new workers.

Operation Titanic Shuttle Bombing Missions to Russia Digitally restored edition/ The problem: key Axis strategic assets were located so deep in Eastern Europe that they either could not be reached by Allied bombers or involved a lengthy round trip that exposed aircraft to heavy German attacks twice. The Russians were closer to these targets, but they were committed to tactical air support and lacked strategic bombers. The solution was "Operation Titanic," aka "Operation Frantic Joe," one of the most audacious and least known strategic operations of the war.

M1 Rifle Caliber.30: Principles of Operation NEW! Although the M-1 has attained legendary status as the companion of the vast majority of US troops in World War 2, it's truly revolutionary role is still not fully appreciated. Designed by the brilliant John C. Garand, the M1 was the first semi-automatic rifle issued en masse to the army of any nation.
We also show 1940-45 vintage WWII Army & Navy films and pilot's manuals on how to fly the F4U, F6F, P-38, P-39, P-40, P-47, P-51, P-61, TBF/TBM, AT-6/SNJ, B-17, B-24, B-25, A-20, A-26, B-26, B-29, and Stearman N2S. Alert! - don't miss the F-86, B-47 & B-58!
Zeno
Zeno's Warbird Video Drive-In
World War II Aviation Videos Playing Online 24/7
http://www.zenoswarbirdvideos.com
Now on Twitter @ZenosWarbirds
Web Videos: A-20 Attack Bombers, Arctic Survival, P-47 Hell Hawks, USAF Vietnam, Georgia B-29s, M-1s & more