Zeno's Warbird Video Drive-In March 2008 Newsletter
Hello World War 2 plane fans —
You're invited to drop your flaps & drop by Zeno's Drive-In www.zenoswarbirdvideos.com to view this month's selection of three powerful WW2 air combat documentary films playing live online.
As always, all of the flicks showing on our web site are free, for the viewing pleasure of our audience.
Now showing "At the Matinee"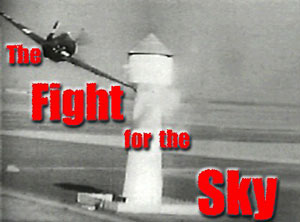 "Fight For the Sky." In February of 1944, General Jimmy Doolittle "turned loose" his fighters to go after the Luftwaffe where they lived. This marked a radical change in strategy from the disastrous tactics of 1943 that kept escorting fighters chained to bombers. Now, US fighters, including the P-51, probed deep into Germany, catching the opposition on the ground, inflicting mortal damage. This feature combines thrilling combat footage filmed by 8th Air Force combat cameramen with some of the most action packed, down and dirty World War II gun camera film you'll ever see.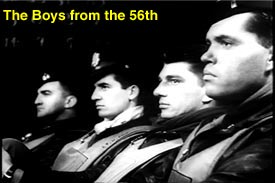 "Ramrod to Emden" The 56th Fighter Group (made up of the 61, 62 & 63 squadrons) was one of the most storied Air Corps units of World War II. Home to aces like David Schilling (22 kills), Frances "Gabby" Gabreski (28), Robert S. Johnson (27), Fred Christensen (21.5), Walker Mahurin (21), and CO Hubert "Hub" Zemke (18), the 56th blazed an early trail across the skies of the ETO in their massive, but deadly P-47 Thunderbolts. "Ramrod to Emden" is the story of the Dec 11, 1943 bomber escort mission (aka "a ramrod") to Emden, Germany. As you'll see in the film, the 56th encountered heavy, determined opposition from Germans, but it proved to be an exceptionally productive day. With Lt. Col. Schilling leading 50 planes of the group, they claimed 17-0-5, with two aircraft lost in a midair collision and no aircraft lost to enemy action. Allied bomber losses were minimal.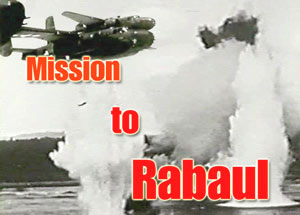 "Mission to Rabaul" The island of Rabaul, located in the southwest Pacific, northeast of the large island of New Guinea, was one of two strategic lynchpins for the Japanese in the Pacific. They poured in tens of thousands of troops, hundreds of airplanes, and thousands of tons of supplies to make it a mighty fortress. Douglas MacArthur's brilliant solution to the Rabaul conundrum was to isolate it and bypass it – rather than assault it. One of the key steps in this strategy was the seizure of airfields in northern New Guinea by Australian & American forces. Those airstrips would be used by Army P-38 fighters who would escort US bombers on long range missions against the heavily defended Japanese stronghold. By the end of the War, once mighty Rabaul was cut off and reduced to a virtual prison for starving Japanese soldiers and airmen. "Mission to Rabaul" shows how each piece of this classic campaign culminated inevitably in the first escorted, massed bomber strike on 12th October, 1943. The film focuses on the decisive and revolutionary impact of the air component, including high & low level attacks, parachute drops, and re-supply. You'll see amazing on the deck footage from attacking A-20s and B-25s.
If you haven't stopped by Zeno's Drive-In before, we also feature 1940-45 vintage WWII Army & Navy films and pilot's manuals on how to fly the F4U, F6F, P-38, P-39, P-40, P-47, P-51, P-61, TBF/TBM, AT-6/SNJ, B-17, B-24, B-25, A-20, A-26, B-26, B-29, and Stearman N2S . Alert! – Alert! There's been an F-86 jet sighted over Zeno's Drive-In
That's over 16 hours of rockin' World War II props for free viewing over the Internet!
Tally-ho!
Zeno
Zeno's Warbird Video Drive-In /World War II Aviation Videos. Celebrating 10 years on the Internet 1997-2007 http://www.zenoswarbirdvideos.com