Zeno's Warbird Video Drive-In Big January 2015 Newsletter
Hello World War 2 & jet aircraft fans –
You are invited to drop by Zeno's Warbird Video Drive-In http://www.zenoswarbirdvideos.com/ to view our January selection of seven exciting films streaming over the Web in broadband, including three premiers.
As always, all of the videos showing on our web site are for your free viewing pleasure. Please help "spread the word" by liking us on Facebook!
Now showing in January "At the Matinee" at Zeno's Drive-In. Free admission!
http://www.zenoswarbirdvideos.com/MATINEE.html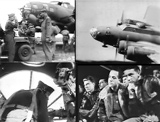 Mission Accomplished: The First US B-17 Bombing Mission Over Europe NEW – digitally restored "Mission Accomplished" tells the dramatic story of the first American B-17 bombing mission over Europe, on August 17, 1942 eighteen B-17Es from the 97th Heavy Bombardment Group, Eighth Bomber Command (later Eighth Air Force) from Grafton Underwood, performed the first daylight raid over Northern Europe by US heavy bombers. Escorted by RAF Spit Vs & IXs, 6 bombers ran a diversion along the French coast, while 12 more Fortresses attacked the primary target, the important rail yards at Sotteville, France, near Rouen.(Get this video & six more on our US Bombers Go to War DVD)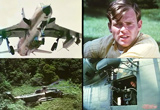 *Faces of Rescue: A downed F-105 Pilot is rescued from the Vietnamese jungle NEW Restored Color F-105 flight leader Lt. James Devoss gives a dramatic account of his rescue, severely injured, from enemy held jungle during the Vietnam War. You'll hear the story of his last mission from takeoff through pickup by a CH-3 "Jolly Green Giant" helicopter after being shot down, including actual footage of the rescue. You'll also see all aspects of a well planned and executed "search and rescue" operation that saved so many lives during that conflict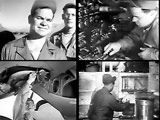 Crew Chief pre-flight Inspection of the B-24 Bomber 1943 NEW – digitally restored Complete pre-flight inspection of a B-24 from the ground crew's perspective. Crew Chief Kelly & the boys do a thorough check inside & out in a point by point inspection of the big Liberator. Another insightful window on World War 2 high tech & the men who made it work.

*Saipan B-29 Superforts - Restored Color & Stereo Sound - Exclusive Documentary) The 73rd Bomb Wing, based on the island of Saipan in the Marianas, operates against Japan in early 1945. You'll see B-29 pilots & crews on R&R and on mission in their magnificent Boeing B-29 Superfortresses. You'll see a gallery of memorable 73rd Bomb Wing nose art too – all in living color with high impact stereo sound. (Get this video & five more plus a B-29 pilot's manual on our Boeing B-29s Go to War Volume 1 DVD)

*Recognition of the Junkers Ju 88 There's some very good Ju 88 footage here, including of one of the intact examples that landed in Britain. Originally designed for the Luftwaffe as a fast ("schnell") medium bomber in the 1930s, the 88 ended up performing more roles than any other aircraft in World War 2, including bomber, dive bomber, night fighter, torpedo bomber, reconnaissance aircraft, heavy fighter and as a flying bomb late in the War. More than 16,000 examples were rolled off the assembly line, making it the most produced German twin engine aircraft in the War.

Merrill's Marauders & the 88th Fighter Squadron in Burma (Restored) This amazing film contains all known footage of Merrill's Marauder's 5307th Composite Unit (provisional) secret deep penetration mission behind Japanese lines through the Burmese jungle to capture the airfield at Myitkyina in 1944. The last third of the film is an up close look at 88th Fighter Squadron P-40 dive bombers flying out of the captured Myitkyina airfield, supplying very close air support for the Marauder's assault on the town itself.

Land & Live in the Arctic for downed World War 2 Airmen A P-40 pilot has engine trouble & a radio malfunction and makes a crash landing in deep snow & trees in the far North. Gradually he remembers what he was taught to survive in the Arctic, or figures it out for himself – the hard way. Lots of useful cold weather survival skills are shown in detail.
We also show 1940-45 vintage WWII Army & Navy films and pilot's manuals on how to fly the F4U, F6F, P-38, P-39, P-40, P-47, P-51, P-61, TBF/TBM, AT-6/SNJ, B-17, B-24, B-25, A-20, A-26, B-26, B-29, and Stearman N2S. Alert! - don't miss the F-86, B-47 & B-58,
Zeno
Zeno's Warbird Video Drive-In
World War II Aviation Videos Playing Online 24/7
http://www.zenoswarbirdvideos.com
Now on Twitter @ZenosWarbirds
Zeno's Flight Shop DVDs: Vintage Aviation, Classic Battles, Weapons & Spies
http://zenosflightshop.com
Web Videos: 1st US ETO B-17 mission, F-105 pilot rescue, B-24 Inspection,Thundering B-29s, Ju 88s & more