Zeno's Warbird Video Drive-In Very Big June 2009 Newsletter
You're invited to drop by Zeno's Drive-In www.zenoswarbirdvideos.com and check ou this month's outstanding lineup of five aircraft & combat videos playing live on line. This June, we're commemorating the 65th Anniversary of the D-Day landings with two feature films and we're debuting three new Drive-In premiers for your viewing pleasure.
Every film at Zeno's Drive-in is showing for free, as they all have since we opened our virtual doors to more than 4 million visitors back in 1997.
Now playing "At the Matinee"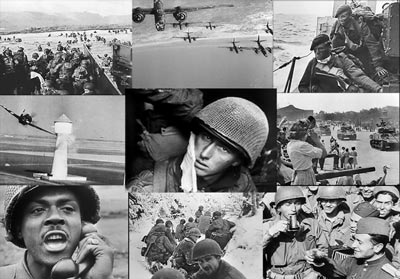 The True Glory: From D-Day to the Elbe tells the Academy Award winning story of the Allied sweep across Northern Europe, seen through the lenses of hundreds of Combat Cameramen from the USA, Canada, France, Poland, Belgium, the Netherlands, Czechoslovakia, Norway, Great Britain, and captured German footage. Legendary American Writer-Director Garsin Kanin ("Born Yesterday," "Adam's Rib," "Pat & Mike) teamed up with Oscar Award Winning Director Carole Reed (Oliver!, The Third Man (nominee) and 3 time Oscar Winning writer Paddy Chayefsky (Marty, Network, The Hospital).They reviewed thousands of hours of film and hundreds of pages of eye witness accounts and distilled them down to this exciting and inspirational collection of some of the finest images, music & narration from World War II. Supreme Allied Commander Gen. Dwight David Eisenhower introduces the theme of this picture in the memorable opening scene, "Teamwork Wins Wars." Though only a few minutes long, this is one of Ike's finest addresses. You'll see the strength in the man who held it all together. "The True Glory" takes you through the major episodes of the northern European Campaign, starting with Invasion preparations, the D-Day Landings & consolidation, the capture of Cherbourg, fighting in Caen, the Falaise breakout, the race to liberate France, Operation Market Garden, the French resistance Operations, retaking Antwerp & Brussels, the Battle of the Bulge, and the crossing of the Rhine and the final campaign into Germany to defeat the Nazis. You'll see how diverse Allied land, sea, and Air Forces work together to defeat the enemy.



The 354th Fighter Group Color Scrapbook Exclusive production. Rare color film of the legendary 354 Fighter Group, with over 700 Kills, the highest scoring American unit in Europe. You'll see great aces like G. T. Eagleston and B.W. Carr at work and at play in their newly captured base in Germany in Spring, 1945, only a few months before war's end. Nice scenes with the group's well known P-51Ds too, including "Margie Maru" and "Angel's Playmate." This was the first group to fly P-51s in the ETO. They were known as the "Mustang Pioneers." Amazing color gun camera fil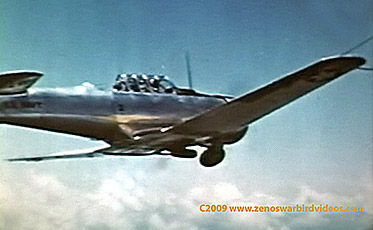 Naval Aviation Cadet(NEW, COLOR) Narrated by Joseph Cotton (Citizen Kane, The Third Man). This color film follows the career of a Navy cadet from enlistment soon after Pearl Harbor through Primary and Advanced Flight training and on into combat. Especially memorable are the many scenes shot at Pensacola Naval Air Station flight school. You'll see all aspects of cadet training, including flight, gunnery, navigation and bombing, along with a generous serving of cadet social life. This film is also notable for extensive, rare color footage of a wide variety of USN training and early war combat aircraft, including Vought OS2U Kingfisher catapult float planes, Boeing N2S Kaydets, North American SNJs, Vultee SNV-1 Valiants, Brewster F2A Buffaloes and SB2A Buccaneers in flight, Consolidated PBY Catalinas and Grumman F4F Wildcats operating off a carrier deck.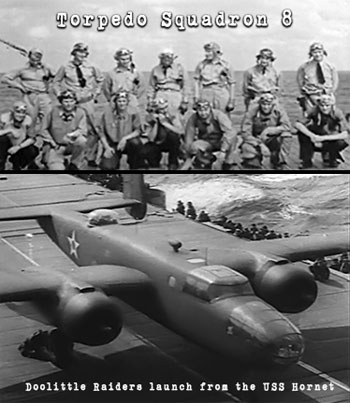 The Life & Death of the U.S.S Hornet (NEW) tells the dramatic story of the legendary aircraft carrier, the USS Hornet (CV-8) , from her launching by Newport News Shipbuilding on Dec 14, 1941 through her dramatic loss on 27 October 1942 after the Battle of Santa Cruz off Guadalcanal in the Solomon Islands. In between , you'll see some of the best footage we have of the Hornet's role in the launching of Col. Jimmy Doolittle's amazing B-25 bomber strike on Tokyo from here heaving flight deck on 18 April, 1942. You'll also see memorable scenes from her participation in the Battle of Midway, including up close footage of the immortal heroes of Torpedo Squadron 8 (VT-8), all of whose members, except one lone survivor, Ensign George Gay, lost their lives flying unescorted against the Japanese fleet in their out-dated Douglas TBD Devastators. Their sacrifice helped draw protecting Japanese fighters away from their carriers, leading to the loss of three of them that day to US dive bombers. Hornet received four battle stars for World War II service. Torpedo Squadron 8 was awarded the Presidential Unit Citation "for extraordinary heroism and distinguished service beyond the call of duty" in the Battle of Midway.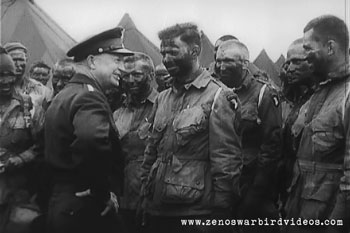 Normandy The Aerial Invasion of Fortress Europe This film was produced during the war to show the strategic and tactical planning that went into the airborne component of the D-Day invasion as well as document the proceedings. Of special interest is the detailed depiction of the development of glider transport and doctrine. Great footage of 82nd & 101st Division paratroopers. If you think you've seen all the surviving footage about Normandy operations, this film will be an eye opener
If you haven't stopped by Zeno's Drive-In before, we also feature 1940-45 vintage WWII Army & Navy films and pilot's manuals on how to fly the F4U, F6F, P-38, P-39, P-40, P-47, P-51, P-61, TBF/TBM, AT-6/SNJ, B-17, B-24, B-25, A-20, A-26, B-26, B-29, and Stearman N2S . Alert! – Alert! There's been an F-86 sighted over Zeno's Drive-In!
That's over 14 hours of rockin' World War II props & jets for free viewing over the Internet!
Zeno
Zeno's Warbird Video Drive-In
World War II Aviation Videos Playing Online 24/7
http://www.zenoswarbirdvideos.com
PS: If you have any concerns about using the RealNetwork's RealPlayer to watch our videos, I highly recommend using the free "RealAlternative" player instead. (It's what I use to play all my 'Net videos.) It's built around the very popular "Media Player Classic" and will play RealVideo files just fine (along with just about every other video format), is independently produced, a very small download and has no annoying advertisements or "music guides." You can download the RealAlternative player here:
http://www.free-codecs.com/download/real_Alternative.htm
Online Vids: D-Day Action, P-51 Aces, The USS Hornet & WW2 Navy Cadets