Lunar New Year Sale, Update 3.010
To celebrate the Lunar New Year, we have launched a sale on our website and Steam. You'll find some great deals including for the first time 33% OFF of Battle of Kuban and a whopping 75% OFF ALL Rise of Flight merchandise. The sale runs from 10am PDT on February 4 th until 10am February 11 th , 2019 . A great time to fill up your hangar! Many prices are their lowest ever, take a look!
33% OFF Battle of Kuban - For the first time ever! ( Steam , website )
66% OFF Battle of Stalingrad ( Steam , website ). Please note that having at least the base game (Stalingrad) on Steam means you can launch it from the Steam client without entering a login and password and you can access your IL-2 content purchased elsewhere if you link the accounts.
66% OFF Battle of Moscow ( Steam , website )
66% OFF Fw-190 A-3 , La-5 series 8 , P-40E-1 and MC202 Collector Planes - For aces on a budget! ( Fw-190 A-3 on Steam , La-5 on Steam , P-40E-1 on Steam , MC202 on Steam , website )
52% OFF Ju 52/3m Collector Plane - Delivering packages has never been so affordable! ( Ju 52/3m on Steam, website )
40% OFF Bf 109 G-6 , Hs 129 B-2 , La-5FN (Series 2) , Spitfire Mk.VB, Yak-1b Series 127 Collector Planes - High Performance, Low Price! ( Bf 109 G-6 on Steam , Hs 129 B-2 on Steam , La-5FN (Series 2) on Steam , Spitfire Mk.VB on Steam , Yak-1b on Steam, website )
66% OFF 10 Days of Autumn and Blazing Steppe historical campaigns - Lowest Price Ever ! ( website, only Blazing Steppe is available on Steam)
25% OFF Havoc Over the Kuban scripted campaign - Two engines, One great price! ( website )
75% OFF all Rise of Flight content - That's almost Free! ( Steam , website )
As usual, if you purchase a plane you already have you can send it as a Gift to a friend or squadron mate.
Update 3.010 Released
As we work on new content which will be made available in a few weeks, we have decided to release update 3.010 now and publish many improvements and fixes which have already been completed and requested by players. This update also adds rocket carrying capability for the U-2VS Collector Plane as well as its availability in Career mode and the P-47D-28 now sports 4K skins made by our friend Martin =ICDP= Catney.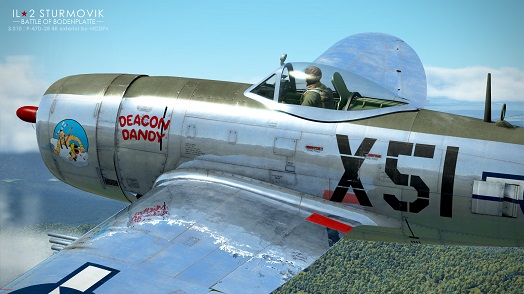 We've also made some more damage model improvements and this update should, for now, finish the current cycle of damage model adjustments. Important multiplayer and AI fixes have also been included. Last, but not the least, we have optimized the GUI which should yield better performance in flight. The full change list is available in the official announcement .
Development Keeps Smashing All in its Path
If you have been following our Developer Diaries you can see that a lot of cool content and features are coming to Battle of Bodenplatte, Flying Circus and Tank Crew this year. We have no fewer than six WWII airplanes, six WWI airplanes, eight legendary tanks and two types of AA batteries coming! And don't forget about the three new maps in development to support all these vehicles. This has been the most aggressive content development cycle ever for our team. In addition to the new vehicles we have the Air Marshal feature in development along with many other improvements and enhancements. Our work never ends and our quest to make Sturmovik an amazing experience for you continues. We urge all players to check our Developer Diaries to see what is coming in 2019.
IL-2 Sturmovik at FS Expo 2019
1C Game Studios is once again exhibiting IL-2 Sturmovik: Great Battles Series at and sponsoring FSExpo 2019! This time in Orlando, Florida June 7th-9th 2019 . Come join us!
Orlando is a great city and our booth will be rocking once again! Last year was a great time getting to spend time with members of our great community and putting faces to names. We hope to have an even better time this year. Come have fun!
FlightSimExpo 2019 Website ( www.flightsimexpo.com )
FlightSimExpo Facebook Page ( https://www.facebook.com/FlightSimExpo )
See you in the skies!
Best Wishes,
The IL-2 Sturmovik Team