Zeno's Warbird Video Drive-In September 2006 Newsletter
It's time for another action packed showing of World War 2 plane video hits playing for free at Zeno's Drive-In - www.zenoswarbirdvideos.com . "At the Matinee," we're showing s triple feature: the fighter fan favorite, "The Fight For the Sky, RAF Bomber Command in a night action in the atmospheric classic, "Target for Tonight," and the irrepressible "Gipper," Ronald Reagan, takes on the storied Nipponese fighter in "Recognition of the Japanese Zero."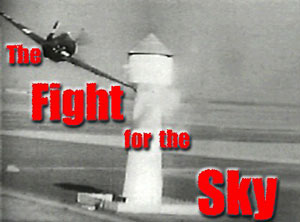 "The Fight For the Sky, " In February of 1944, General Jimmy Doolittle "turned loose" his fighters to go after the Luftwaffe where they lived. This marked a radical change in strategy from the disastrous tactics of 1943 that kept escorting fighters chained to bombers. Now, US fighters, including the P-51, probed deep into Germany, catching the opposition on the ground, inflicting mortal damage. This feature combines thrilling combat footage filmed by 8th Air Force combat cameramen with some of the most action packed, down and dirty World War II gun camera film you'll ever see. This is the original, uncut 40-minute version of "The Fight for the Sky" featuring twice the rock 'em sock 'em action of the heavily edited postwar release previously shown at the Drive-In.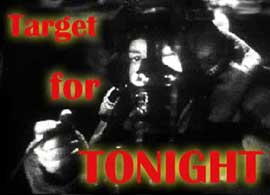 ""Target for Tonight" follows the crew "F for Freddie, " a Vicker's Wellington medium bomber (Millerton Station, Group 33), through an entire low level night mission attacking an oil storage depot at a rail yard. Notice how the film highlights the participation of not only servicemen from all classes from around the British Isles, but also Canadians and a navigator that sounds a lot like a Yank volunteer. The film exemplifies the understatement, dry humor, and "business as usual" approach typical of British information films of the period, along with a clear "get the job done" attitude.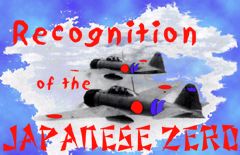 "Recognition of the Japanese Zero" Lieutenant "Jimmy Saunders" (Ronald Reagan) learns how to tell a P-40 from Japanese A6M Zero the hard way. (That's a very angry Craig Stevens AKA "Peter Gunn" on the receiving end.) Contains plenty of interesting info about what US pilots were told about Japan's most produced and feared fighter and how to spot it. Includes seldom seen footage of a captured Zero doing spectacular aerobatics. Even though this is "only" a 20-minute training film "the Gipper" gives a very convincing performance as the cocky yet apprehensive new P-40 pilot, Jimmy Saunders. This earnest commitment to give his very best, regardless of the size or scope of the role, was a hallmark of his long and distinguished career
If you haven't stopped by Zeno's Drive-In before, we also feature 1940-45 vintage WWII Army & Navy films and pilot's manuals on how to fly the F4U, F6F, P-38, P-39, P-40, P-47, P-51, P-61, TBF/TBM, AT-6/SNJ, B-17, B-24, B-25, A-20, A-26, B-26, B-29, and Stearman N2S. And there are different WWII documentaries every month "At the Matinee." That's over 14 hours of rockin' props for free viewing over the internet.
Zeno
Zeno's Warbird Video Drive-In
World War II Aviation Videos Playing Online 24/7
http://www.zenoswarbirdvideos.com